Interactive Video and Live Projections
I love to create moving images that react to real people in live environments. From VJing with world class DJs to creating responsive projections in festival tents, I get a real buzz from seeing people's responses in real time and re-reacting to them – a sort of visual antiphony that I never get from my TV work, even if ten million people are watching! To see the instant feedback from performers and audiences, and to know that "I helped to do that" is a true pleasure that satisfies the entertainer in me.
I have used all sorts of hardware and software over the years, from simple (and virtually fail-safe!) video switching units, through VJ software (Resolume is my weapon of choice) to high-end work with Hippotizer servers. I am comfortable working with software that's new to me too – just give me a bit of time to play with it and I'll get some great looking content coming through.
Highlights of my work…
Co-operatives United convention
The United Nations International Year of Co-operatives was celebrated in 2012; at the end of the year, 3000 international dinner guests were entertained by performers from the Travelling Light Circus co-operative. I directed the show, including the production of animated sequences to complement the routines and emphasise the theme of the event: we are stronger together. The audience included foreign government ministers, multi-national CEOs and invited dignitaries, most of whom had never seen this type of show ever before! It seemed that they were all enthralled and delighted, as the organisers of the event gave high praise and commendations to all of us involved in the show.
 – – –
An interactive installation designed for public events indoors or out. The public are encouraged to step inside a space surrounded by a seven-sided mirror, where they are met by repeated reflections of themselves. Participants are then invited to dance and play within the Heptascope, whereupon they are captured in a series of photographs that are turned into loopable video sequences. The video loops are then turned into live video art – mixed and mashed with VJ software and projected onto a screen close to the Heptascope. A short example of the results can be seen in this video…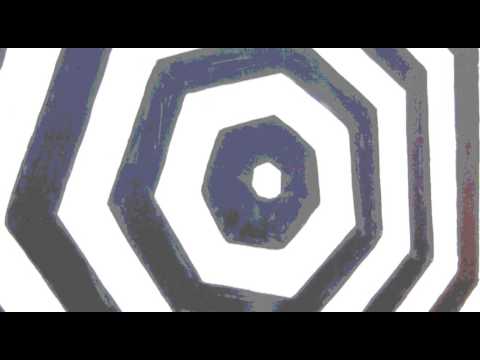 – – –
In 2007, at the inaugural Manchester International Festival, I worked with the microchunk VJ collective to provide live video streams for projection onto what was, at the time, the largest screen in the world – a whopping 40-metres across! Sasha, Carl Cox, Fat Boy Slim and 2 Many DJs were amongst the highlights of a 2-night extravaganza of music and projections that kept 20,000 people from their beds until the early hours.
 – – –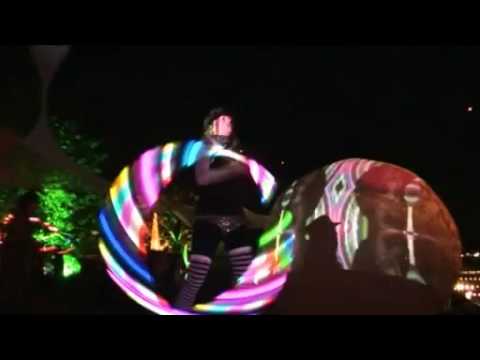 Another Travelling Light Circus highpoint was the Big Chill festival in 2009 where 12 performers, 2 VJs and 2 live cameras toured the night-time festival fields with a giant inflatable screen and a mobile projection tower. Hula-hoopers, jugglers and staff-spinners spun and threw their illuminated toys through the air, whilst I directed the live video feedback that was piped through Resolume to create some fantastic visuals and tricks-of-the-light. It was not only great fun but was also very successful, with the troupe being invited back to Big Chill until its demise in 2012. Click on the image above to watch the highlights video that I edited.
 – – –
I spent many happy times at Glade Festival between 2006 and 2011, installing giant fabric sculptures designed to work as lightweight projection screens above and around people on site. This image is from 2009, where six helium filled meteorological balloons and six filled with air, helped to create a huge canvas for an array of constantly changing projected light patterns. Analogue patterns were made with a set of Solar 575s whilst one of the lower balloons was lit by a live feed from a small video camera, distorted with simple software. The effect was subtle but spectacular once people realised that they were looking at themselves on a giant ball!
 – – –
[image:OneTreeManyRoots_004]
At Manchester's Contact Theatre, I helped to programme One Tree, Many Roots – a series of drumming workshops and performances with percussion groups from across the city's communities. The rehearsal sessions were filmed and edited, then projected onto parts of the scenery for the live performances. The projections were mixed with live camera feeds using microphone-fed MIDI triggers that produced real-time video effects that synced perfectly with MIDI-to-DMX lighting changes.
– – –